About us
Erzgebirge.co.uk is an online shop from the ISDD GmbH company that sells cuckoo clocks from the Black Forest on our sister website CuckooClocks.com. Our company was founded in 1997 by Reiner Duffner and Claus-Stefan Duffner in Schoenwald in the Black Forest of Germany. Our mission is to offer high-quality decorative products from Germany for your home that will bring joy and happiness to the entire family. We offer a large selection of original Erzgebirge wooden crafts, toys, figurines, Christmas decorations and Black Forest products, all made by hand in Germany. Since we place a high value on quality, we have selected our products carefully from manufacturers we know and trust, who also hold special certifications that guarantee quality.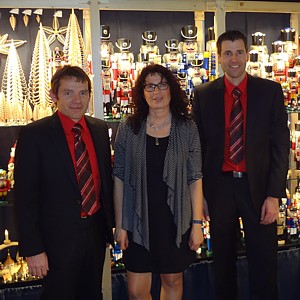 If you cannot visit the Black Forest or the Erzgebirge region to see these beautiful wooden crafts being made and produced, we bring them to you through our online shop so you can have your very own piece of German history. Through close relationships with our manufacturers, we offer our customers a short delivery time and the best prices on handcrafted products from Germany. We deliver worldwide and ensure that our items are well-packed to arrive safely at your doorstep. If you have questions about any of our products, get in touch with us by email and we are happy to help. If you are looking for a gift for a loved one, we think any of our wooden folk art pieces would make a great choice.

If you have questions about the products on our website, see our FAQ page for our commonly asked questions. If you don't see your question answered, get in touch and we'll try to help. We hope you will enjoy our German-made selection of products and consider getting these special items for your friends and family. The craftsmanship of our items is a welcome gift to the whole world and those who receive it will surely enjoy it for a long time to come.